Erin has the biggest heart of anyone I know, and if you are fortunate enough to be loved by her, she literally envelopes you with love, and allows you to sleep there. Like, overnight. -Bekah Brunstetter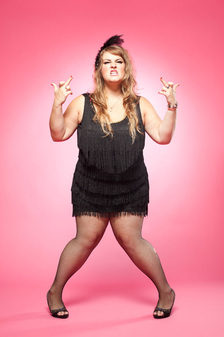 Photo by Eric MIchael Pearson

Erin McCarson hails from Yadkinville, North Carolina. She grew up with cows in her backyard, as good girls should.

Erin is an enigmatic figure frequently scaling walls and saving endangered animals. She writes award-winning sonnets. She can peel an avocado using only the toes on her left foot. She knows the precise location of every item in the supermarket. She wows men worldwide with her lyrical and sensuous ukulele playing. She turned down the Olympics. She sleeps once a week, and when she sleeps, Erin sleeps standing up. She can chat in Latin and Swahili. She is painfully honest and observant. Governments beg her to solve their problems; often, she refuses. She has superpowers, but doesn't like to gloat. She has swam with dolphins and spoken with Elvis. Erin holds membership in both MENSA and Tall People International. She likes long romantic walks on the beach, but prefers a roll in the hay. She doesn't beat around the bush and she remains unconvinced that silence is golden.

---
Press
McCarson brings her Broadway, television and film experience to WNC for her auspicious HART debut. Her over-the-top death scenes — yes, she dies twice —are worth the price of the ticket. ​
-The Guide WNC


Celebrated as a Feature Artist in Queens, NY by the website Mission to DitMars. Read the interview here.
About Mission to Ditmars:
This is a series of posts featuring our artists who are making things happen in and around our great borough of Queens.
-
Mission to Ditmars
Marriage Play
by Bekah Brunstetter takes on the affection problems that married couples often develop, but places them in the context of gustatory gluttony and wide-angle humor. Erin McCarson and Jared Culverhouse are a sitcom couple boiled to the nth degree, randy and sad, voluptuous and touching. Their nostalgia for more innocent times leads them unexpectedly to a happy, absurd and silly breakthrough.
-Blog Critics
The life of the party and everyone's favourite Southern songbird, E-Bomb!!
-Headache FIlms, LLC
​
Truth in advertising. Cudzoo & the faggettes aren't bad looking, and they seem to be on a mission to offend everyone within earshot. They've got more in common with the nastiest gangsta rap you can imagine, rather than the 60s girl-group pop they imitate (or parody) on their debut cd. This project seems to be the brainchild of one E-Bomb AKA Erin McCarson, an actress with a background in underground theatre.
..
-Lucid Culture
...the fearlessly bodacious Ebomb... We'll leave it to the Village Voice to talk about how these women speak truth to power about sexual politics – what's important is that last night, Cudzoo got the whole house laughing, Democrats and wrong-thinkers alike.
-
Lucid Culture